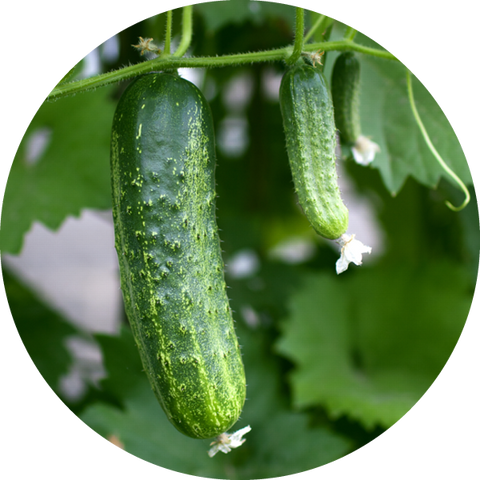 Collection:
Cucumber Seed Oil Skin Benefits
Cucumber Seed Oil: A Refreshing Natural Ingredient for Your Skin
Cucumber seed oil, derived from the seeds of the Cucumis sativus plant, is a little-known but highly beneficial oil with numerous applications in skin care and hair care. Rich in nutrients, antioxidants, and essential fatty acids, this versatile oil offers a wide range of benefits for maintaining healthy skin and hair. This article will explore the many advantages of incorporating cucumber seed oil into your daily beauty routine.
Moisturizes and Nourishes Skin: Cucumber seed oil is a great moisturizer thanks to its high linoleic acid content, an essential fatty acid that helps maintain the skin's natural barrier. This lightweight, non-greasy oil absorbs quickly, leaving your skin feeling soft, smooth, and hydrated.

Anti-Aging Properties: Rich in antioxidants, such as vitamin E and phytosterols, cucumber seed oil helps neutralize free radicals, which can cause premature aging. The oil also promotes collagen production and improves skin elasticity, reducing the appearance of fine lines and wrinkles.

Soothes Sensitive and Irritated Skin: Cucumber seed oil has natural anti-inflammatory properties, making it an excellent choice for calming and soothing sensitive or irritated skin. It is particularly beneficial for those with eczema, psoriasis, and rosacea conditions.

Reduces Dark Circles and Puffiness: Thanks to its high content of tocopherols and phytosterols, cucumber seed oil can help alleviate dark circles and puffiness around the eyes. Massaging the oil into the delicate under-eye area can improve blood circulation and reduce inflammation, giving you a more refreshed and youthful appearance.
Cucumber seed oil is a true gem in the world of natural skincare. Its numerous benefits make it a perfect addition to your beauty routine, helping you achieve healthy, glowing skin. So, go ahead and explore the refreshing world of cucumber seed oil and embrace its many advantages!


Shop Our Cucumber Seed Oil Skincare Products