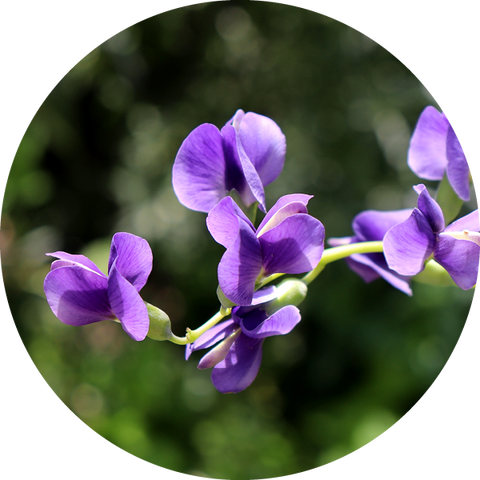 Collection:
Wild Indigo Skin Benefits
Wild indigo, also known as Baptisia Tinctoria, is a botanical ingredient that has gained popularity in the skincare industry for its numerous skin benefits. Studies have shown that Wild Indigo extract, also referred to as neurophroline, possesses a powerful dual action that rapidly repairs the effects of stress on the skin. It has been found to balance cortisol levels in the body by reducing its production by 70%. At the same time, it stimulates the production of beta-endorphin, a naturally occurring peptide in the skin that induces relaxation and provides pain relief. The stimulation of beta-endorphin production by Wild Indigo extract has been found to increase by a remarkable 163%. This potent combination of stress-reducing and pain-relieving properties makes Wild Indigo extract a highly beneficial ingredient for skincare products. This also makes it particularly useful for those with sensitive or acne-prone skin, as it can help to calm and soothe the skin.
Wild indigo is also rich in antioxidants, which help to protect the skin from environmental stressors such as pollution and UV radiation. Antioxidants can help to prevent the breakdown of collagen and elastin, which are essential for maintaining the skin's elasticity and firmness. By protecting the skin from damage, wild indigo can help to prevent premature aging and keep the skin looking youthful and radiant.
In addition to its anti-inflammatory and antioxidant properties, wild indigo has also been found to have a brightening effect on the skin. It contains a natural compound called saponin, which helps to remove impurities and dead skin cells from the skin's surface. This can help to reveal a brighter, more even complexion and reduce the appearance of dark spots and hyperpigmentation.
Overall, wild indigo is a powerful ingredient that can provide multiple benefits for the skin. Wild indigo can be a valuable addition to your skincare routine, whether you're looking to reduce inflammation and redness, protect the skin from environmental damage, or improve the appearance of dark spots and uneven skin tone.

Shop Wild Indigo Skincare